BENCANA ALAM TERBESAR DIASIA
 BUKAN TERJADI DI INDONESIA
OLEH
Dr Iwan Suwandy,MHA
Copyright @ 2014
PENDAHULUAN
Baru saja terjadi bencana alam berupa letusan Gunung Kelud dengan dampak yang cukup berat yang melumpuhkan beberapa lapangan terbang di Jawa tengah dan jawa Timur akibat debu vulkanis, kejadian ini relative lebih ringan dari letusan Gunung kelud tempo9 dulu sehingga abu vulkanisnya  menutup hamper seluruh jawa tengah teramsuk candi Borobudur tertimbun sampai hilang dari pandangan mata, hal ini mengakibatkan terjadilah perpindahan Kerajaan Jawa ke Jawa Timur mulai dari kerajaan Kediri, Airlangga,Singosari, kemudian jadi Mojopahit dan seterusnya yang hamper seluruh rakyat Indonesia pasti sudah mengetahuinya karena di tulis dalam buku-buku sejarah yang dipelajari di sekolah.
Apakah letusan Gunung berapi di Indonesia ,yang terkenal dengan Ring Of Fire ,merupakan kejadian bencana Alam terbesar di Asia ?
Bencana Alam Indonesia tersebut seperti letusan gunun g Krakatau,Gunung Tambora, dan sebagainya,serta gempa tektonis dengan pergeseran lempeng bumi di Indonesia dengan timbulnua Tsunami pada tahun 2006 yang lalu dan tentunya juga pada masa yang lalu. Ternyata bukanlah bencana yang terbesar yang telah kita ketahui bersama ,
Ternyata ada bencana Alam yang terbesar di Asia tetapi tidak menimbulkan bencana yang sama di Indonesia, hal ini saya belum pernah pelajari di buku-buku sekolah, padahal bencana Alam terbesar di Asia Barat tersebut menimbulkan dampak yang luar biasa terhadap Negara local bencana tersebut,
Kemudian setelah Bencana tersebut  itu  timbul dampak sosio ekonomi besar akibat migrasi penduduk Negara terlibat Bencana kearah Asia Timur termasuk Indonesia  dan hal ini  sangat berpengaruh terhadap perkembangan etnis penduduk Indonesi yang selama ini sulit diketahui mengapa kita Indonesia multi etnis and multi religious.
Kejadian ini perlu kita ketahui dan pelajari agar kejadian ini bila terjadi kita semua akan siap untuk menghadapinya,sesuai motto saya  dalam mepelajari sejarah
Learn From The Past
Alam terkembang Jadi Guru
Kejadian Bencana besar di Asia Barat tersebut terkenal dengan istilah
The Great Famine of 843 (90 AD)
INDIA MONSSON
Dimana terjadi perubahan cuaca ekstreem berupa angin badai yang memberikan dampak luar biasa
Untuk mengetahui informasi lebih lanjut silahkan membaca buku elektronik Dr Iwan
Yang berjudul
BENCANA ALAM TERBESAR DIASIA
 BUKAN TERJADI DI INDONESIA
Agar dapat menambah informasi, bagi yang belum memiliki buku elektronik ini saya upload sebagian contoh dari buku tersebut,bagi yang berminat dapat menghubngi saya liwat email
Jakarta
February 2014
Dr Iwan Suwandy,MHA
The Great Famine of 843 (90 AD)
India Monsoon  Onset Map 
monsun
adalah serangkaian angin yang membawa awan lembab yang basah kuyup di wilayah  India dan Asia tenggara selatan  dari tanggal terjadinya Monsoons di anak benua India .
Ini tterjadi pada tahun 843 ( 90 AD ) . Asia dalam hujan selama musim panas .
Pola cuaca ini sangat sensitif dan rentan terhadap perubahan lingkungan .
tahun 2013 terjadi lagi monsson di India
Pada musim panas tahun 843 ( 90 AD )
musim hujan tidak datang di Asia Tenggara dan orang-orang dari Nan(Vietnam) serta Sriwijaya jatuh ke kelaparan .
Pada saat yang sama
gurun Utara Sinica(China)
mulai mengirim
badai pasir besar jauh di luar gurun daripada yang pernah mereka capai sebelumnya, yang juga chocked banyak lembah-lembah sungai Sinica .
Kematian yang terjadi secara besar-besaran dan diperkuat bahkan lebih oleh kenyataan bahwa ia datang pada akhir waktu yang lama dan berkelanjutan perdamaian antara kekuatan Asia Timur .
Satu-satunya daerah yang agak Tidak terkena dampak   oleh perkembangan ini adalah pulau-pulau Indonesia dari Sriwijaya , yang banyak dari anggota yang lebih kaya dari masyarakat mereka melarikan diri ke setelah meninggalkan benua , serta wilayah paling timur dari Dinasti Han Kedua dan koloni Jepang .
Sriwijaya adalah , untuk sebagian besar orang Tiongkok  terlalu  jauh bagi omereka  untuk menjangkaunya  .
Orang-orang sekarat dari
apa yang dilagukan
oleh
dinasti Tang pindah Timur.
Kematian yang dikelilingi orang-orang Sinica(Tiongkok) begitu besar bahwa itu menjadi
topik cerita novel pertama dari seorang anak muda kehilangan orang tuanya untuk perjalanan pindah yang panjang
ke kota Shanghai untuk mencari makanan dan masa depan .
Setiap uang yang bisa diambil dari orang-orang yang bepergian adalah , ketidakmampuan mereka untuk pergi setelah mereka kehabisan uang menyebabkan banyak untuk menetap di sekitar orang terkaya yang bisa mengatur pergerakan makanan .
Kota-kota baru dimulai pada rute bergerak ke Timur tumbuh menjadi pusat perdagangan setelah hujan kembali dan daerah Barat yang cocok untuk repopulation .
Contoh-contoh ini tertiup pergi praktis oleh kejadian-kejadian
di Mongolia di mana
Jepang diperbudak
banyak orang berimigrasi ke pertanian dan tenaga kerja industri , dan hampir semua dari mereka menyetujui perbudakan .
Langkah untuk merebut kembali
bagian-bagian Mongolia
dari Asia Utara oleh Jepang disambut tanpa perlawanan oleh pimpinan Mongolia yang akan menyapa setiap penghuni yang bisa menawarkan mereka makanan .
Perlakuan Jepang adalah keras tapi mereka membawa mereka akses ke beras dan tanah-tanah penggembalaan ternak mereka .
Orang Jepang dan Sinicans memiliki banjir rekrutan baru untuk militer mereka yang merupakan salah satu dari beberapa bentuk sisa terhormat pekerjaan belum dilibatkan dalam pengendalian serikat buruh melindungi karir seperti pembuatan kertas untuk diri mereka sendiri dan keluarga mereka .  
Peta Dunia di sekitar Samudra Hindia setelah Kelaparan Mahahebat dari 843 ( 90 AD ) .
 Merah: Maurya Empire , Orange: Kekaisaran Romawi , Hijau : Sriwijaya Empire , Light Blue : Parthia Empire , Blue: Ethiopia Raya , Purple : Satavahana Raya paling tidak ada pertahanan di perbatasan mereka dengan mundurnya tentara kembali ke pulau-pulau .
 Sriwijaya namun dari tanah diplomatik perusahaan dengan Kekaisaran lainnya .
Gerakan berikutnya di Benua Asia dalam menanggapi musim hujan berada di negara yang paling dipengaruhi oleh siklus monsoon, India .
Orang-orang Indian memulai kampanye migrasi untuk mencari makanan dan uang .
Apa cadangan sukses Maurya Kekaisaran telah pergi ke kapal-kapal tersebut yang mulai menjelajahi Samudera Hindia dan mengontrolnya sehingga mereka dapat memperoleh makanan dari daerah yang lebih subur .
Langkah pertama dibuat oleh sebuah keluarga kaya dari seluruh Andhra Coast.
Mereka dikirim oleh Samraat ( Kaisar ) Brihadrata II ke Pantai Timur Afrika di mana mereka bertemu Kerajaan Ethiopia yang menjadi mitra dalam perdagangan gandum .
 Selain itu , keluarga yang dikirim ke Afrika , bernama Satavahana , mendirikan Kerajaan mereka sendiri di pulau tak berpenghuni dari Madagaskar dan area yang lebih kecil di pantai Tenggara , dengan nama keluarga mereka .
Cabang kedua dari eksplorasi untuk makanan India pergi ke pulau-pulau dari Kekaisaran Sriwijaya .
 Banyak berimigrasi di sana dan meninggalkan masa lalu mereka di Maurya Empire belakang .
Kemudian , keluarga lanjut dikirim untuk memberikan India kontrol atas wilayah-wilayah yang subur dan mengembalikan imigran ke pemerintahan Kaisar tersinggung .
 Banyak dari keluarga berimigrasi adalah bagian dari keluarga Sunga yang telah mencoba untuk mendirikan pemerintahan mereka sendiri , karena mereka brahmana dan dalam agama Hindu diyakini mereka ditakdirkan untuk memerintah atas orang lain .
Mereka dikalahkan oleh putra Samraat Brihadrata pertama , bernama Dakshesh , dan dianggap sebagai bagian dari kasta hamba yang menyamar kasta yang lebih tinggi
Original info
The monsoons
are a series of winds that bring in moist clouds that drench the areas of India and SoutheastA picture of the onset dates of Monsoons in the Indian Subcontinent. These did not occur in the year 843 (90 AD).Asia in rain during the Summer.
These weather patterns are very sensitive and vulnerable to changes in the environment. In the summer of the year 843 (90 AD)
the monsoons did not arrive in Southeast Asia and the people of Nan as well as Srivijaya fell into famine.
At the same time the deserts of Northern Sinica began to send great sandstorms further outside the desert than they had ever reached before, which also chocked many of the river valleys of Sinica.
The death that ensued was massive and amplified even more so by the fact that it came at the end of a time of long and sustained peace between the powers of East Asia.
The only areas that were rather uneffected by these developments were the Indonesian islands of Srivijaya, which many of the wealthier members of their society fled to after leaving the continent, as well as the Easternmost areas of the Second Han Dynasty and the Japanese Colonies.
The Srivijaya were, for the most part, to far for people from Sinica to reach them.
The dying people of
what was So
Song and Tang moved East.
The death that surrounded the people of Sinica was so great
that it became the topic of the first novel story of a young boy losing his parents to a long move to the the city of Shanghai to find food and a future.
Any money that could be extracted from the traveling people was, the inability of them to leave after they ran out of money led many to settle around the richest person who could orchestrate the movement of food.
These new cities were started on routes moving to the East grew into trading centers once the rains returned and the Western areas were suitable for repopulation.
These examples were blown away practically by the events in Mongolia where the Japanese enslaved many of the immigrating people into farm and industrial labor, and almost all of them consented to the enslavement.
The move to retake the Mongolian parts of North Asia by the Japanese was met without resistance by the leadership of Mongolia who would greet any occupier who could offer them food.
The treatment of the Japanese was harsh but they brought them access to rice and to grazing land for their cattle.
The Japanese and the Sinicans had a flood of new recruits to their military which was one of the few respectable remaining forms of employment not already entangled in the control of trade guilds protecting careers like paper making for themselves and their families.
The Srivijaya had aim
The World around the Indian Ocean after the Great Famine of 843 (90 AD).
 Red: Maurya Empire, Orange: Roman Empire, Green: Srivijaya Empire, Light Blue: Parthian Empire, Blue: Ethiopian Kingdom, Purple: Satavahana Kingdom most no defenses on their borders with the retreat of the soldiers back to the islands.
 Srivijaya was however of a firm diplomatic ground with the other Empires.
The next movement in the Asian Continent in response to the monsoons was in the country that was most effected by monsoon cycle, India.
The Indians began a campaign of migration in search of food and money. What reserves the successful Maurya Empire had went to these ships that began to explore the Indian Ocean and to control it so that they can gain food from more fertile areas.
The first move was made by a wealthy family from around the Andhra Coast.
They were sent by the Samraat (Emperor) Brihadrata II to the East Coast of Africa where they encountered the Kingdom of Ethiopia which became a partner in the trade of grain.
 Furthermore, the family sent to Africa, named the Satavahana, established their own Kingdom in the uninhabited island of Madagascar and a smaller area on the Southeast coast, under their families name.
The second branch of the Indian exploration for food went to the islands of the Srivijaya Empire.
 Many immigrated there and left their pasts in the Mauryan Empire behind.
Later, further families were sent in order to give India control over these fertile regions and to return the immigrants to the rule of the offended Emperor.
 Many of these immigrating families were part of the Sunga family which had tried to establish their own rule, because they were brahmins and in the Hindu religion believed themselves destined to reign over others.
They were defeated by the son of Samraat Brihadrata the first, named Dakshesh, and were regarded as part of the servant caste that had impersonated a higher caste
2nd  Century
desa Sang Hyang Dengdek 31 km dari kota padeglang
.
 di kampung Cipurut,
Situs Sang Hyang Dengdek
Sanghyang Dengdek "Sang Hyang Dengdek" atau yang mempunyai nama " Prabu Jayasati Wisesa" adalah arca laki-laki dan Sanghyang Heuleut atau "Mas Ratu Lenglang Jagad" adalah arca perempuannya
Situs Batu Goong – Citaman
 near ancient telaga
situs Cihunjuran
diduga kuat sebagai tempat persinggahan atau peristirhatan
 Angling Dharma
 yang kemudian membangun Kerajaan Salakanagara.
Selain itu juga terdapat makam Angling Darma yang mempunyai gelar "Aki Jangkung".
Konon Aki Jangkung ini atau yang mempunyai nama "Kyai Prabu Raja Angling Darma Kusuma" membuat kerajaan di tepi Gunung Pulosari ini Sebagai tempat peristirahatannya.
Dan kolam pemandian cihunjuran ini merupakan tempat penyempurnaan dari segala ritual yang dilakukan oleh Angling Darma dan pernah juga dipakai oleh Sultan Hasanudin. Berdasarkan nasakah Pustaka Rajyarajya I Bhumi Nusantara" (disusun oleh sebuah panitia diketuai Pangeran Wangsa Kerta)
130-150 AD
.
Rudradaman I (r. 130–150) was a Saka ruler from the Western Kshatrapas dynasty.
He was the grandson of the celebrated Sah[1] king Chastana.
 Rudradaman I was instrumental in the decline of the Satavahana Empire.
after he became the king and then strengthened his kingdom. During his reign he married a Hindu woman and converted to Hinduism
Kingdom of Salakapura
Start in 130 A.D.
King .Dewawarman I  until VIII
3rd Century
However, in the 3rd century the warlike Yaudheyas became more powerful.
 The indigenous Nagas also were aggressiv toward 
 in the 3rd century.
The Satavahanas
In the 3rd century CE the empire was split into smaller states
According to the data of China Koying were trading
in the 3rd century AD
Pasemah
also in South Sumatra and Lampung Ranau area
 has found indications of trading activities undertaken by Tonkin or Tongkin and Vietnam or Fu – nan in the same century . Instead of tiles Han dynasty ( 2nd century BC to 2nd century AD ) found in a particular region of Sumatra .
Candi muara Jambi
4TH CENTURY AD
Considered one of the oldest archaeological sites in Malay, it is dated to the 4th Century A.D. This is, without question, a Hindu and Buddhist site, with over 50 temples (or chandis) so far excavated.
These artifacts, dating to the 4th Century A.D. include pottery shards, stone statues of Hindu icons, inscribedc stone tables, metal tools, Song and Ming Dynasties ceramic wares, ornaments, beads and semi precious stones.
Kedah was the transit port for traders (awaiting the monsoon winds) traveling through the Melaka straits. Kedah Peak was used as a navigational beacon for th
ese traders, and the settlement grew into a kingdom from this trade route. Most structures are believed to be of wooden pillars, thus the remains found here are mainly foundations of the chandi structures.
While the earliest date is the 4th Century A.D., the area flourished in the 7th Century A.D. and was eventually replaced by the Malacca kingdom in the 11th Century A.D. This Hindu-Budha temple dates to around the 8th to 10th Century A.D.
Kota Gelanggi
 is one of the oldest pre-Islamic Malay Kingdoms of
 South East Asia's Malay Peninsula.
The oldest archaeological site in Malay, and the first capital of the ancient Malay Empire of Srivijaya, dates to around 650 A.D. to 900 A.D. It is located in the dense jungles of
 the southern Malaysian state of Johor at Darul Takzim
Explore this 150 million year old historical and mythical caves complex and witness its unique flora, fauna and its magnificent rock formations which will definitely captivate you.
With cave chambers dubbed to be one of the best in this region, Kota Gelanggi Caves offers an inspiring and breathtaking adventure experience.
 Indulge in the myths behind these caves and explore the wonderful works of nature through beautiful rock formations sculptured by time.
 Legend has it that these caves were actually ancient ruins of inhabitants who were turned into stones together with their belongings. .
 Drop by and witness these wonders yourself and experience the beauty of the stalagmites and stalactites as well as the unique and strangely shaped rock formations. All crafted with fitness by the time and nature.
4th Century
358
Salakanagara later replace by
 Tarumanegara dynasty
the road to the Candi "Jiwa" (Ancient Soul -BudhishTemple), after enter the Rengasdengklok ,from the Jakarta Cikampek Toll Road, at West Cikampek I foun dthe sign
,then tern left and after the railways t's turn to the right,
I came to the very crowded market
Then the turn right until at then of that market
,turn left near the small river, I drive straight until arrived the sign
, the Jiwa Temple at the right circa 40 km in very bad road,with very small arrow directions of Candi Jiwa , then turn to the right about 500 m.
I enter the broken candi Jiwa, and with the helping of the native peoples there I have seen other borken candi, they talled me about 24 candi beside Candi Jiwa there.
All the candi built frome "Bata" sands break.
please look my profile at two candi Jiwa at Batujaya krawang west Java
LOOK THE COMPLETE INFO AT
THE CHINESE KAPITAN PART TWO C
THE CHINESE EMMINENT RELIC BEFORE SRIVIJAYA
Several events from the 4th to 6th centuries
mark the transitional period during which the Roman Empire's east and west divided.
In 285,
 The emperor Diocletian (r. 284–305)
partitioned the Roman Empire's administration into eastern and western halves.[3] 
Between 324 and 330
,Constantine I (r. 306–337)
transferred the main capital from Rome to Byzantium, later known as Constantinople ("City of Constantine") andNova Roma ("New Rome").[n 1] 
Under 
Theodosius I (r. 379–395),
 Christianity became the Empire's official state religion and others such asRoman polytheism were proscribed.
And finally,
 under
the reign of Heraclius (r. 610–641),
the Empire's military and administration were restructured and adopted Greek for official use instead of Latin.[5]
 In summary,
 while it maintained Roman state traditions, Byzantium is distinguished from ancient Rome proper insofar as it was oriented towards Greek rather than Latin culture, and characterised by
rather than
The borders of the Empire evolved significantly over its existence, as it went through several cycles of decline and recovery.
During
the reign of
Justinian I (r. 527–565),
the Empire reached its greatest extent after reconquering much of the historically Roman western Mediterraneancoast, including north Africa, Italy, and Rome itself, which it held for two more centuries.
During
the reign of
 Maurice (r. 582–602),
the Empire's eastern frontier was expanded and the north stabilised.
However, his assassination caused a two-decade-long war with 
 which exhausted the Empire's resources and contributed to major territorial losses during the Muslim conquests of the 7th century.
Dr Iwan Noteas
In 2011 I found
The Queen Sasanid silver coin
in Bukittinggi west Sumatra
The Iran  Sasanid kindom during
Empress Puran 7th Century,
bring by Gujarat Trader during Srivijaya empire in Indonesia and they had trading with the Minangkabau marchant at Mingkabau Kingdom (Pagaruyung),( The first report found in Indonesia-auth,anoher report from Rusia)
Gujarat trader
The Chinese records
give a graphic picture of the long trade routes across their country,
around the south of the Gobi desert,
to the Oxus River,
 into
Parthia
and on to
Mesopotamia.
An alternate route was by sea from
 Canton,
around
the Malay peninsula
, pass
 the southern tip of India
 and into
 the Persian Gulf.
Yule writes, "At this time, (early fifth century)
the Euphrates
was navigable
as high as Hira,
a city lying
southwest of ancient Babylon …
and the ships of India and China were constantly to be seen moored before the houses of the town."38
The Chinese either turned their goods,
 chiefly silks,
 over to the Arabs here, or over to the Parthians at the Oxus River, the latter then bringing them to Hira.
There they were transshipped around
the Arabian peninsula,
 up
the Red Sea
to
Solomon's Ezion-geber
Or
 the Aelana (modern Akabah) of the Romans;
from there
 caravans carried them
 to
Petra, the great market city,
to sell them to
the western traders.
Ancient Chinese traders
Of Petra Hirth writes:
During the first two centuries A D.,
Petra
or Rekem,
was the great emporium of Indian (and, we may add, Chinese) commodities, where merchants from all parts of the world met for the purpose of traffic…. Under the auspices of Rome, Petra rose, along with her dependencies, to an incredible opulence….
 This prosperity was entirely dependent upon the caravan trade, which at this entrepot changed carriage, and passed from the hands of the southern to those of the northern merchants.39
6th Century
Around the year 500,
Srivijayan roots began to develop around present day 
in modern Indonesia.
The empire was organised in three main zones — the estuarine capital region centred on Palembang, the Musi River basin which served as hinterland and rival estuarine areas capable of forming rival power centres.
The areas upstream of the Musi River were rich in various commodities valuable to Chinese traders.[16] 
The capital was administered directly by the ruler while the hinterland remained under its own local datus or chiefs, who were organized into a network of alliances with the Srivijaya maharaja or king. Force was the dominant element in the empire's relations with rival river systems such as Batang Hari, centred in Jambi
7th Century
605
The country of Fu-lin, also called Ta-ts'in, lies above the western sea. In the southeast it borders on Po-ssu (Persia)…. The emperor Yang-ti of the Sui dynasty (A.D. 605-617) always wished to open intercourse with Fu-lin, but did not succeed.
The several accounts known in Chinese literature of the mysterious country in the west called Fu-lin is declared to be identical with the country from ancient times known as Ta-ts'in.
This is known from the texts of the T'ang dynasty, which use the two names are interchangeable terms.
It has been concluded by the Chinese that Ta-ts'in is Syria, and if that is the case, then Fu-lin must be Syria.
The author is disinclined to be guided by this kind of logic. Friedrich Hirth believes that Ta-ts'in is the Roman empire.
However the detail placed on record in the contemporary Chinese texts is confined to its Asiatic provinces, for which reason Antioch is described as the capital city.
 Hirth considers Fu-lin to be Byzantium and Ta-ts'in to be certain Asiatic portions of the empire.
 After this analysis, there still remain quite a number of important points to be settled in connection with both Ta-ts'in and Fu-lin
The Byzantine Empire was the predominantly Greek-speaking continuation of the Roman Empire during Late Antiquity and the Middle Ages.
Its capital city was Constantinople
(modern-day Istanbul), originally known as Byzantium. Initially the eastern half of the Roman Empire (often called the Eastern Roman Empire in this context),  it survived the 5th century 
 and fall of the Western Roman Empire
and continued to exist for an additional thousand years until it fell to the Ottoman Turks in 1453.
. Both "Byzantine Empire" and "Eastern Roman Empire" are historiographical terms applied in later centuries; its citizens continued to refer to their empire as the Roma Empire (Ancient Greek: Βασιλεία Ῥωμαίων, tr.Basileia Rhōmaiōn; Latin: Imperium Romanum),[1] and Romania (Ῥωμανία).[2]
c.616 CE:
The maternal uncle of the prophet Muhammad, Abu Waqqas, joined a trading voyage from Ethiopia to Guangzhou. He then returned to Arabia, and came back to Guangzhou 21 years later with a copy of the Koran.
He founded the Mosque of Remembrance,
near the Kwang Ta (Smooth Minaret) built by the Arabs as a lighthouse.
Abu Waqqas tomb is in the Muslim cemetery in Guangzhou.

Liu Chih,
The Life of the Prophet (12 vols), 1721, quoted by the Islamic Council of Victoria, http://www.icv.org.au/history2.shtml
Four missionaries were sent to China by the prophet Mohammad, and two died in Quanzhou.
 They were buried as honoured guests, and the tombs repeatedly repaired and embellished until the present.
Wang Lianmao (ed), Return to the City of Light, p.99, and Quanzhou site captions, citing Ming Shu, 'A history of Fujian province'
Chinese influence in Islamic pottery
`
618
Tang Dynasty
The death of
Emperor Yang Ti of Sui
resulted in a Sui Kingdom civil war from which
King Li Yuan (of Western Wei) later became
the first Tang Emperor Kao Tsu
and
his son Li Shih-min arose victorious,
establishing the T'ang dynasty and extending the unification of China for another 300 years. Li Yuan, adopting the title
T'ang Kao Tsu, ruled from AD 618-626
then abdicated in favor of his son Li Shih-min who adopted the title
T'ai Tsung and ruled from AD 627 to 649.
Both were able rules under whom T'ang began its rise to greatness. The next 300 years was a time of relative calm, prosperity and enlightenment with the cultural arts dominating over the military arts.
636
During the patriarchate of Syrian missionaries
Mar Ishu Jahb II, 636,
 went to China, and for 150 years this mission was active…. 109 Syrian missionaries have worked in China during 150 years of the Chinese mission….
They went out from Beth Nahrin, the birthplace of Abraham, the father of all believers.
The Syrian missionaries traveled on foot;
 they had sandals on their feet, and a staff in their hands, and carried a basket on their backs, and in the basket was the Holy Write and the cross.
They took the road around the Persian Gulf; went over deep rivers and high mountains, thousands of miles. On their way they met many heathen nations and preached to them the gospel of Christ.20
LOOK  COMPLETE INFORMATION AT
THE BOOK
BYFOOT TO CHINA
During the early years of the Mohammedan regime,
 the Syrian Christian churches had more freedom and peace than under the Persian kings.
A concordat was signed with Mohammed whereby the Christians would pay tribute, in time of war shelter endangered Muslims and refrain from helping the enemy.
In exchange they were to be given religious toleration, though they were not to proselytize, and they would not be required to fight for Mohammed.21
He had reason to be friend the Christians for a "Nestorian" had been Mohammed's teacher at one point and, in some early battles, certain Christian communities had actually fought on his side against pagan tribes.22
So much Christian influence, though highly distorted, is apparent in his teaching that Islam has been called a Christian heresy
It was not until the seventh century that two events brought about the demise of this great trading center.
The first was
the smuggling of silkmoth eggs
 into Syria, concealed in a bamboo cane,
the presumption being that it was done by "Nestorians,"40 with the result that "by the end of the sixth century (Syria) appears to have been meeting the west's demand for the raw material."41
The Chronology Srivijaya History Collections
Distorted history of Southeast Asia in Śrīvijaya times

At the beginning of the twenty-first century, few people doubt that the location of the Śrīvijaya was Palembang in Sumatra, because, according to G. Coedès, Palembang was the center of the trade between the East and West in the Śrīvijaya times as well as that of Mahāyāna Buddhism.
However it is quite dubious if the hypotheses reflect historical facts or not. As the entrepôt between India and China, Jambi was located at more preferable location than Palembang.
As the center of Mahāyāna Buddhism, the states of Malay Peninsula, such as Chaiya had more advantage than Palembang.
5th Century
According to the Chinese annals, Funan and Pan-pan were known where Mahāyāna Buddhism flourished since the fifth century and contributed to China in the field of Buddhism.So, when the anboy of Srivijaya, the Tan court gave them the name of '室利佛逝'(Shi-li-fo-shi). This name includes the Buddha (佛). This means special treatment for Srivijaya.
In the history of Śrīvijaya, the role of Palembang was too exaggerated, as the result the ancient history of Southeast Asia has been distorted.
For instance the trade relation between China and Indonesia (Java and Sumatra) was not so developed before the seventh century. Even the inscription was rare before the seventh century in the central Java.
The ancient Chinese courts preferred the Indian, Arabic and Persian goods as well as the products of Southeast Asia, such as incense woods and ivories.
The Java Island was not in the position to get the western goods easily, compared with Funan and Champa. Funan obtained them mainly at the port of Takua Pa and carried them through the land route to Chaiya. From Chaiya, Funan shipped them to its own port, 'Oc-Eo' and directly China and Champa. Chaiya and Champa maintained good relations for long time.
Historically from very ancient times,
Indian people and their cultural influences came to Southeast Asia in successive waves. The details of them cannot be discussed here.
However the first migrant group came to Southeast Asia as treasury hunters. They primarily looked for gold and other precious things. They found several gold mines in this area, for instance Pahang in the middle of the Malay Peninsula. The Indian migrants brought beads and cotton clothes to exchange with gold and daily necessities from indigenous people.
605
605
Little physical evidence of Srivijaya remains.[13] According to the Kedukan Bukit Inscription, dated 605 Saka (683 CE), the empire of Srivijaya was founded by Dapunta Hyang Çri Yacanaca (Dapunta Hyang Sri Jayanasa). He led 20,000 troops and 312 people in boats with 1312 foot soldiers from Minanga Tamwan to Jambi and Palembang.
Although according to this inscription, Srivijaya was first established in the vicinity of today's Palembang, it mentions that Dapunta Hyang came from Minanga Tamwan. The exact location of Minanga Tamwan is still a subject of discussion.
The Kedukan Bukit Inscription was discovered by the Dutchman M. Batenburg on 29 November 1920 at Kedukan Bukit, South Sumatra, on the banks of the River Tatang, a tributary of the River Musi. Barring the potentially earlier (but undated) Dong Yen Chau inscription, it is the oldest surviving specimen of the Malay language, in a form known as Old Malay. It is a small stone of 45 by 80 cm. This inscription is dated the year 605 Saka (683 AD) and contains numerous Sanskrit words
Original Text in Old Malay Language
All these inscriptions were written in Pallava script, a form of ancient script used in Tamil kingdoms of ancient India.
Transliteration 1:
svasti śrī śakavaŕşātīta 605 (604?) ekādaśī śu-
klapakşa vulan vaiśākha ḍapunta hiya<ṃ> nāyik di
sāmvau mangalap siddhayātra di saptamī śuklapakşa
vulan jyeşţha ḍapunta hiya<ṃ> maŕlapas dari minānga
tāmvan mamāva yaṃ vala dualakşa dangan ko-
duaratus cāra di sāmvau dangan jālan sarivu
tlurātus sapulu dua vañakña dātaṃ di mata jap
sukhacitta di pañcamī śuklapakşa vula<n> <…>
laghu mudita dātaṃ marvuat vanua <…>
śrīvijaya jaya siddhayātra subhikşa <…>
Transliteration 2:[1]
Swasti Shri Shakawarsatita 605 ekadashi
Shuklapaksa wulan Waishaka dapunta hiyang naik
Disambau mangalap siddhayatra di Saptami Shuklapaksa
Wulan Jyestha dapunta hiyang marlapas dari Minanga
Tamvan (Tamvar?) mamawa jang bala dua laksa dangan <…>
dua ratus tsyara disambau dangan jalan saribu
Tlu ratus sapuloh dua banyaknya. Datang di Matajap (Mataya?)
Sukhatshitta. Di pantshami shuklapaksa Wulan <…>
Laghu mudik datang marwuat manua <…>
Syriwijaya jayasiddhayatra subhiksa.
Translation in Malay Language[edit]
Literal translation:
Selamat dan Bahagia. Dalam Syaka 605
Sebelas hari Bulan Waisyaka. Baginda naik kapal
Mencari untungnya pada tujuh hari
Bulan Jyestha, Baginda berlepas dari Muara
Tamvan membawa bala dua laksa dengan <…>
Dua ratus pawang di kapal dengan jalan seribu
Tiga ratus sepuluh dua banyaknya. Datang di Matajap
Sukacita. Di lima hari Bulan <…>
Belayar mudik datang membuat benua <…>
Srivijaya kota yang jaya, bahagia dan makmur.
Detailed translation:
Salam bahagia, batu bersurat ini ditulis pada hari ke-11 bulan Waisyaka Tahun 605 Syaka:
Baginda menaiki kapal untuk mencari untungnya pada 7 hari di bulan Jyestha.
Baginda berlepas dari Muara Tamvan dengan membawa dua puluh ribu bala
dengan <…> serta dua ratus pawang dan tentera sebanyak
seribu tiga ratus dua belas banyaknya dengan sukacitanya datang ke Matajap.
Pada lima haribulan <…>, mereka datang belayar mudik ke hulu untuk membuka negara <…>.
Srivijaya, kota yang jaya, bahagia dan makmur.
English Translation for Malay Language version of the Inscription[edit]
All hail and prosperity! In the year 605 of the Saka calendar, on the eleventh
day on the full moon of Waisaka, His Majesty took
a boat to make a profit. On the seventh day
on the full moon of Jyesta, His Majesty
brings 20000 troops and
312 people in boats from firth of Tamvan, With 1312 foot soldiers
and came to Matajap
happily. On the fifth day on the bright moon of …,
they docked and open a country …
Great, prosperous and peaceful Srivijaya!
English Translation[edit]
"Om swasti astu! All hail and prosperity. In the year 605 of the [Indian] Saka calendar, on the eleventh day at half-moon of Waisaka, Sri Baginda took dugouts in order to obtain siddhayatra.[2] On Day 7, on the 15th day at half-moon of Jyestha, Sri Baginda extricated himself from minānga tāmvan.[3] He took 20,000 troops with him … as many as 200 in dugouts, with 1,312 foot soldiers. They arrived at … Truly merry on the fifteenth day of the half-moon…, agile, happy, and they made a trip to the country … Great Sriwijaya! Prosperity and riches …"
680
Under the leadership of Jayanasa, the kingdom of Malayu became the first kingdom to be integrated into the Srivijayan Empire. This possibly occurred in the 680s. Malayu, also known as Jambi, rich in gold and was held in high esteem. Srivijaya recognized that the submission of Malayu would increase its own prestige.[18]
The Palembang theory as the place where Srivijaya was first established, was presented by Coedes and supported by Pierre-Yves Manguin. Soekmono on the other hand, argues that Palembang is not the capital of Srivijaya and suggests that the Kampar river system in Riau where the Muara Takus temple is located as Minanga Tamwan.[14] Another theory suggests that Dapunta Hyang came from the east coast of the Malay Peninsula, and suggests Chaiya as the center of Srivijaya.[15]
680 AD
This possibly occurred in the 680s.
Malayu, also known as Jambi,
rich in gold and was held in high esteem.
Srivijaya recognized that the submission of Malayu would increase its own prestige.[18]
682 CE:
Kedukan Bukit Inscription
The first known inscription of a king of Srivijaya was incised on a river boulder at Kedukan Bukit, Palembang in Sumatra.
Stuart Munro-Hay, Nakhon Sri Thammarat, 1.6.
683 AD
Little physical evidence of Srivijaya remains.[13]
According to the Kedukan Bukit Inscription, dated 605 Saka (683 CE), the empire of Srivijaya was founded by Dapunta Hyang Çri Yacanaca (Dapunta Hyang Sri Jayanasa). He led 20,000 troops and 312 people in boats with 1312 foot soldiers from Minanga Tamwan to Jambi and Palembang.
Although according to this inscription, Srivijaya was first established in the vicinity of today's Palembang, it mentions that Dapunta Hyang came from Minanga Tamwan.
The exact location of Minanga Tamwan
 is still a subject of discussion.
The Palembang theory as the place where Srivijaya was first established, was presented by Coedes and supported by Pierre-Yves Manguin. Soekmono on the other hand, argues that Palembang is not the capital of Srivijaya and suggests that the Kampar river system in Riau where theMuara Takus temple is located as Minanga Tamwan.[14] 
Another theory suggests that Dapunta Hyang came from the east coast of the Malay Peninsula, and suggests Chaiya as the center of Srivijaya.[15]
684
From Sanskrit inscriptions, it's notable that the King Jayanasa launched a maritime conquest in 684 with 20,000 men to acquire wealth, power, and 'magic power'.[17] 
Under the leadership of Jayanasa, thekingdom of Malayu became the first kingdom to be integrated into the Srivijayan Empire.
the end of the third quarter of 7th century,
According to Chinese sources by the end of the third quarter of 7th century, became the leader of an Arab merchant Muslim Arab settlements on the coast of Sumatra. Islam also gives effect to the existing political institutions
684
From Sanskrit inscriptions, it's notable that the King Jayanasa launched a maritime conquest in 684 with 20,000 men to acquire wealth, power, and 'magic power'.[17]
693
According to the Kota Kapur Inscription, discovered on Bangka Island, the empire conquered most of Southern Sumatra and the neighboring island of Bangka, as far as Lampung.
Also according to the inscription, Jayanasa launched a military campaign against Bhumi Java in the late 7th century, a period which coincides with the decline of Tarumanagara in West Java and Holing (Kalingga) in Central Java. The empire thus grew to control the trade on the Strait of Malacca, the Sunda Strait, the South China Sea, the Java Sea, and the Karimata Strait
Chinese records dating to the late 7th century
mention two Sumatran kingdoms, as well as three other kingdoms on Java as part of Srivijaya.
By the end of the 8th century,
many western Javanese kingdoms, such as Tarumanagara and Holing, were within the Srivijayan sphere of influence. It has also been recorded that a Buddhist family related to Srivijaya dominated central Java at that time.[19] The family was probably the Sailendras.[20] The ruling lineage of Srivijaya intermarried with the Sailendras of Central Java and lived along the Javanese Sanjaya dynasty when the Srivijayan capital was located in Java.
During the same century, Langkasuka on the Malay Peninsula became part of Srivijaya.[21] Soon after this, Pan Pan and Trambralinga, which were located north of Langkasuka, came under Srivijayan influence. These kingdoms on the peninsula were major trading nations that transported goods across the peninsula's isthmus.
With the expansion into Java and the Malay Peninsula, Srivijaya controlled two major trade choke points in Southeast Asia. Some Srivijayan temple ruins are observable in Thailand and Cambodia.
The area of Chaiya, in Surat Thani Province, Thailand, was already inhabited in prehistoric times by Semang and Malayan tribes. Founded in the 3rd century, the Srivijaya kingdom dominated the Malay Peninsula and much of the island of Java from there until the 13th century.
The city of Chaiya's name may be derived from its original Malay name "Cahaya" (meaning 'light', 'gleam' or 'glow'). However, some scholars believe that Chai-ya probably comes from Sri-vi-ja-ya. It was a regional capital in the Srivijaya empire of the 5th to 13th century. Some Thai historians argue it was the capital of Srivijaya itself, but this is generally discounted.
At some point in the 7th century,
Cham ports in eastern Indochina started to attract traders. This diverted the flow of trade from Srivijaya. In an effort to divert the flow, the Srivijayan king or maharaja, Dharmasetu, launched various raids against the coastal cities of Indochina.
8th  CENTURY
723
the Sundan king which became the Mataram and Majapahit King
Sanjaya
( Rakeyan Jamri / Prabu Harisdama,)
The second Sunda King
(723 – 732M),
Became the King of Mataram K8ingdom(732-860 AD(
 and he found the Ancient Mataram kingdom and also the  Sandjaja Reign
menjadi raja di Kerajaan Mataram (Hindu) (732 – 760M).
 Ia adalah pendiri Kerajaan Mataram Kuno, dan sekaligus pendiri Wangsa Sanjaya
---
Kompleks Candi Dieng
Kompleks candi-candi Hindu yang dibangun pada abad ke-7, antara lain: Candi Gatotkaca, Candi Bima, Candi Arjuna, Candi Semar, Candi Sembadra, Candi Srikandi, Candi Setyaki, Gangsiran Aswatama, dan Candi Dwarawati.
Kawasan ini terletak sekitar 26 km di sebelah Utara ibukota Kabupaten Wonosobo, dengan ketinggian mencapai 6000 kaki atau 2.093 m di atas permukaan laut. Suhu di Dieng sejuk mendekati dingin. Temperatur berkisar 15—20°C di siang hari dan 10°C di malam hari. Bahkan, suhu udara terkadang dapat mencapai 0°C di pagi hari, terutama antara Juli—Agustus. Penduduk setempat menyebut suhu ekstrem itu sebagai bun upas yang artinya "embun racun" karena embun ini menyebabkan kerusakan pada tanaman pertanian.
Nama Dieng berasal dari bahasa Sunda Kuna "Di" yang berarti "tempat" atau "gunung" dan "Hyang" yang bermakna (Dewa). Dengan demikian, Dieng berarti daerah pegunungan tempat para dewa dan dewi bersemayam. Nama Dieng berasal dari Bahasa Sunda karena diperkirakan sebelum tahun 600 daerah itu didiami oleh Suku Sunda dan bukan Suku Jawa.
• 732:
Sanjaya dynasty founded around this time according to Canggal inscription.[11]
• 8th century to 832: The agriculturally-based Buddhist Sailendra kingdom flourishes and declines.[11]
732
Again, "In the ninth month of the twentieth year K'ai-yuan (October 732) the king of Persia sent the chief Pan-na-mi (Barnubi) with the monk of great virtue, Chi-lieh (Cyriacus) as ambassadors with tribute."62 But these casual references are too numerous to mention further. The evidence of the presence of the "Nestorian" missionaries in China during the T'ang era is incontestable. On the basis of the Chinese records alone Hirth states dogmatically, "all the first embassies sent from Fu-tin during the T'ang dynasty were carried out by Nestorian missionaries."63
In Japan and Korea also, evidence of a past early Christian presence survives. Two beams of an ancient temple, dating from the late seventh century, with crosses on them and having inscriptions identified by professor Sayce as being "in an alphabet akin to Syriac,"64 are in the Tokyo National Museum. In northwest Japan is a large tomb, dating from about the same time, known to the local people as "the tomb of Jesus." In all probability it is the tomb of a "Nestorian" Christian who preached Jesus, perhaps even bore His name, who was buried there in the tomb period.
Balaputradewa
seorang raja dari Kerajaan Sriwijaya. Balaputradewa memerintah pada abad VIII-IX masehi. Balaputradewa adalah raja yang paling terkenal dari Kerajaan Sriwijaya karena di masa pemerintahan beliaulah Kerajaan Sriwijaya mencapai puncak kejayaannya sebagai sebuah Kerajaan Maritime yang berkuasa hampir diseluruh Nusantara hingga mencapai Thailand, India, Filipina dan China.
Look the Museum Balaputra  dewa
Museum Balaputradewa terletak di Km 6,5 tepatnya di Jl. Srijaya Negara I No. 288, Palembang, Sumatera Selatan, Indonesia.
Museum Balaputradewa memiliki sekitar 3580 buah koleksi yang terdiri dari barang-barang tradisional Palembang, binatang awetan dari berbagai daerah di Sumatera Selatan, beberapa miniature rumah pedalaman, replica prasasti dari arca kuno yang pernah ditemukan di Bukit Siguntang, batu-batu ukir raksasa dari jaman Megalitikum, dan masih banyak lagi.
Koleksi di Museum Balaputradewa dibagi menjadi 10 macam kategori yaitu
 histografi atau historika (cerita-cerita),
 etnografi,
feologi,
keramik,
alat-alat teknologi modern,
seni rupa (berupa ukiran),
 flora fauna (biologika) dan geologi
serta terdapat rumah limas juga rumah Ulu Ali.
Koleksi-koleksi di Museum Balaputradewa ditempatkan pada 3 buah ruang pameran yang dikelompokan menjadi
ruang pamer zaman prasejarah,
Putri cave
Pasemah fossil
Stone axe
Burial eathern martavan
Stone inscription
Museum srivijaya at palembang
732
The Sailendras and the Sanjayas
From the beginning, a tension developed in central Java between competing Buddhist and Hindu ruling families.
 The first central-Javanese temples and inscriptions, dating from 732 A.D.,
were the work of a Hindu ruler by the name of Sanjaya.Very soon thereafter, however, a Budhist line of kings known as the Sailendras (Lords of the Mountain) seem to have comefrom the north coast of Java to impose their rule over Sanjaya and his descendants.
The Sailendras maintained close relations with Sriwijaya (both rulers were Buddhist) and ruled Java for about 100 years.
 During this relatively short period they constructed the magnificent Buddhist monuments of Borobudur, Mendut, Kalasan, Sewu and many others in the shadow of majestic Mt. Merapi. Still now this area is blessed with unusually fertile soils, and already in ancient times it must have supported a vast population, who all participated in the erection of these state monuments.
Plaosan temple

The statue of Durga Mahisasuramardini in northern cella of Shiva temple,
Prambanan temple complex in Central Java. Also called Durga Loro Jonggrang
Candi (pronounced /ˈtʃandiː/) are commonly refer to Hindu and Buddhist temples or sanctuaries in Indonesia, most of which were built from the 8th to the 15th centuries.
 However, ancient non-religious structures such as gates, habitation remnants, or pool and bathplaces are often also called as "candi"…The term "candi" itself derived from Candika one of the manifestation of the goddess Durga as the goddess of death.[Soekmono, Dr R. (1973). Pengantar Sejarah Kebudayaan Indonesia 2. Yogyakarta, Indonesia: Penerbit Kanisius. pp. 81.] This suggested in ancient Indonesia the "candi" has mortuary function as well as attributed with the afterlife. The association of the name "candi", candika or durga with Hindu-Buddhist temples is unknown in India and other Indonesia's Southeast Asian neighbours such as Cambodia, Thailand, or Burma.
 The historians suggested that temples of ancient Java also used to store the ashes of cremated deceased kings or royalties.
This is also in-line with buddhist concept of stupa as the structure to store buddhist relicts including the ashes and remnants of holy buddhist priest or the buddhist king, the patron of buddhism. The statue of god stored inside the garbhagriha (main chamber) of the temple often modelled after the deceased king and considered as deified self of the king portrayed as Vishnu or Shiva.
The Prambanan compound also known as Loro Jonggrang complex,
 named after the popular legend of Loro Jonggrang. There are 237 temples in this Shivaite temple complex, either big or small…The middle zone consists of four rows of 224 individual small shrines.
There are great numbers of these temples, but most of them are still in ruins and only some have been reconstructed. These concentric rows of temples were made in identical design. Each row towards the center is slightly elevated.
 These shrines are called "Candi Perwara" guardian or complementary temples,
the additional buildings of the main temple. Some believed it was offered to the king as a sign of submission. The Perwara are arranged in four rows around the central temples, some believed it has something to do with four castes, made according to the rank of the people allowed to enter them; the row nearest to the central compound was accessible to the priests only, the other three were reserved for the nobles, the knights, and the simple people respectively.
 While another believed that the four rows of Perwara has nothing to do with four castes, it just simply made as meditation place for priests and as worship place for devotees.
736
The Shoku-Nihongi, published in 797, refers to the return from China in 736 of an envoy who brought with him "a Persian by the name of Limitsi and another dignitary of the church of the Luminous Religion (Kei Kyo-Chinese, Ching Chiao) called Kohfu."65
Elsewhere in Japanese history the Persian is referred to as Rimitsu, the physician. The Empress Komyo was very much influenced by his teaching and later built a hospital, an orphanage and a leprosarium, works of mercy typical of the "Nestorian" practical Christianity, but not of the Buddhism of that day.
One of the most sacred objects of the Shingon sect of Buddhism at the Nishi-Honganji Temple in Kyoto, founded by Kobo Daishi after he returned in 806 from China's capital and contact with the "Nestorian" monastery there, is a copy of the early missionary manuscript, "The Lord of the Universe's Discourse on Almsgiving," a commentary on the Sermon on the Mount and other Matthew passages. It is said that Shiriran spent hours daily studying this Christian document
 745:
Arrival of Islam in the archipelago
 was first marked in the invention Batu Nisan Sandai Sandai, Ketapang territory of the Kingdom Tanjungpura bertarikh 127 Hijri (745 AD).
a Chinese monk,
 I-Tsing,
wrote that he visited…
 ruled Sumatra, the Malay peninsula, and western Java (Sunda)
sīlĕnˈdrä,
sīlĕnˈdrä,
name of a dynasty in Indonesia and SE Asia.
The dynasty appeared in central Java in the 7th cent. and had consolidated its position by the mid-8th cent appeared in central Java in the 7th cent. and had consolidated its position by the mid-8th cent.
The Sailendras, who adopted Buddhism,
extended their power over the Sumatran domains of Sri Vijaya and the Malay Peninsula and exerted influence in Siam and Indochina
752 to 1045:
 The Hindu Medang (Mataram) kingdom flourishes and declines.[12]
760 to 830:
Borobudur Buddhist monument constructed.[13]
748 CE: Chinese monk Jian Zhen (Jianzhou, of Daming monastery in Yangzhou), failed in his fifth attempt to sail to Japan, and drifted to Guangzhou where 'many big ships came from Borneo, Persia, Qunglun [Indonesia/Java]… with… spices, pearls and jade piled up mountain high'. The largest ship looked like a mansion, with sails many zhangs high. [1 zhang = 3.11 metres.] Sri Lanka was by now the major shipping centre, with ships visiting from India, Persia and Ethiopia; Sri Lankan ships had gangways many zhangs high.
Tang Zhiba, 'The influence of the sail on the development of the ancient navy', p.61
The Tang Dynasty (Chinese: 唐朝; Mandarin Pinyin: Táng Cháo; Jyutping: tong4 ciu4; IPA: [tʰɑ̌ŋ tʂʰɑ̌ʊ]; Middle Chinese: Dâng) (618 – 907 AD) was an imperial dynasty of China preceded by the Sui Dynasty and followed by the Five Dynasties and Ten Kingdoms period. It was founded by the Li (李) family, who seized power during the decline and collapse of the Sui Empire. The dynasty was interrupted briefly when Empress Wu Zetian seized the throne proclaiming the Second Zhou Dynasty (October 8, 690 – March 3, 705) and becoming the only Chinese empress regnant.
The 7th century and first half of the 8th century is generally considered the zenith era of the Tang Dynasty. Emperor Tang Xuanzong brought the Middle Kingdom to its golden age while the Silk Road thrived, with sway over Indochina in the south, and to the west Tang China was master of the Pamirs (modern-day Tajikistan) and protector of Kashmir bordering Persia.[48]
Some of the kingdoms paying tribute to the Tang Dynasty included Kashmir, Nepal, Khotan, Kucha, Kashgar, Japan, Korea, Champa, and kingdoms located in Amu Darya and Syr Darya valley.[49][50]
There was great contact and interest in India as a hub for Buddhist knowledge, with famous travelers such as Xuanzang (d. 664) visiting the South Asian subcontinent.
After a 17-year long trip, Xuanzang managed to bring back valuable Sanskrit texts to be translated into Chinese. There was also a Turkic–Chinese dictionary available for serious scholars and students, while Turkic folksongs gave inspiration to some Chinese poetry.[103][104] In the interior of China, trade was facilitated by the Grand Canal and the Tang government's rationalization of the greater canal system that reduced costs of transporting grain and other commodities.[105] The state also managed roughly 32,100 km (19,900 mi) of postal service routes by horse or boat.[106]
During the Tang Dynasty, thousands of foreigners came and lived in numerous Chinese cities for trade and commercial ties with China, including Persians, Arabs, Hindu Indians, Malays, Sinhalese, Khmers, Chams, Jews and Nestorian Christians of the Near East, and many others.[115][116] In 748,
the Buddhist monk Jian Zhen described Guangzhou as a bustling mercantile center where many large and impressive foreign ships came to dock. He wrote that "many big ships came from Borneo, Persia, Qunglun (Indonesia/Java)…with…spices, pearls, and jade piled up mountain high",[117][118]
The Kwan Sing Bio Temple
is located in Tuban Regency, the city lying in the north coast of East Java.
It is also easy to reach by public transport such as bus or car since its strategic position close to the Surabaya and Jakarta main road, or take only a short walk about two hundred metres from the Tuban bus terminal.
The worship place of Kwan Sing Bio temple is predicted to have been built in the seventh century and it was also believed to have high supernatural quality, therefore lots of Hindu pilgrims visite there daily, especially on holidays of Chinese calendar Imlek and the birthday of Kwan Ping Thai Tjoe, Kwan Sing Tee Koen, and Tjoe pjong Tiang Koen. The temple faces northward to the seashore.
The Indonesian Chinese communities believe that God will easily grant every prayer spelt in this direction. One of its uniqueness is the giant crab standing on the gateway, and such a kind of this is away from the custom since most of the temples have symbol of dragon and peacock.
The  Belitung Shipwreck Tang Dynasty  Collection
Created by
Dr Iwan suwandy,MHA
Copyright@2014
1.The very rare and excellent Tang Dinasty ceramic s and other gold cup were found at the Belitung straits , but very pitty Indonesia fishermen only found the bad conditions collections, all the best collection were gone to Singapore Museum and trader.
2.Due to that condition I starting to seek the info about that collections via google explorations and show to all the Chinese Tang's  Ceramic collector all over the world.
3. I hope this info will help the Indonesia and all over the world marine archeologist will used this info fore their research
The Gaspar Strait runs between the Indonesian islands of Bangka and Belitung, some 300 miles southeast of Singapore, where I sit today, writing these words.
Its calm, blue surface belies the snarl of rocks and reefs beneath, and the so-called Belitung Wreck is just one of many ships that met its demise in these perilous waters.
In 1998,
a German prospector by the name of Tilman Walterfang dove into the strait and struck gold: or rather, some gold, silver, and lots of pots.
Over the year, his prospecting company pulled 60,000 handmade artifacts out of the heavily silted waters in the Gaspar, from the wreck of a large ship that we now know sunk sometime in the ninth century.
Its contents, known vaguely as 'the Tang treasure', have been said to enlarge forever the boundaries of our knowledge of Chinese Tang dynasty maritime history and of the nature and dimensions of early Asian trade.
For the next six years or so,
the treasure languished in a New Zealand warehouse, while Qatar, Shanghai, Singapore and private collectors all vied vigorously for ownership.
In 2005,
Singapore bought the lot. And this afternoon, I had the good fortune to be taken for a private tour of it.
Junks and their junk
The vessel that sunk was likely a dhow of Arab or Indian origin, a conjecture substantiated well by Michael Flecker, an archaeologist who was invited by Tilman Walterfang himself to direct and document the excavation.
(Some of Flecker's academic papers on the topic, as well as a fascinating but brief clip of part of the excavation, can be found here).
According to Flecker, one of the most striking features of the dhow is that it was not held together with nails or dowels, but sewn together, likely with coconut-husk fibers. Its probable destination is also well established. In the world of the ninth century, dominated economically by two imperial giants
— Tang Dynasty China
and
Abbasid Persia —
the ship has been reasonably thought to be sailing from one to the other, probably
 from
Guangzhou
To
 Basra.
Basra silver coin
 The vessel is purported to be the first of Middle Eastern origin found in Southeast Asian waters.
Singapore, alas, didn't acquire the actual ship, so I didn't get to see it. We saw the Tang treasure instead.
At present,
most of it is housed in an unassuming basement at the bottom of
the Hua Song Museum in Singapore.
The place looked to me, as I walked in this evening, a little like a bomb shelter.
What strikes you almost as soon as you walk into the warehouse is the sheer scale of production.
It seems that China then, as now, was mass producing and exporting their goods in staggering quantities — several centuries earlier than scholars have previously thought.
You might say that in the hold of this sunken ship lurked, for 1200 years, a kind of ancient Ikea.
The serial nature of most of the cargo, and the fact that the ceramics exhibit styles distinct to at least five different kilns from all over China, both seem to suggest that this was an export vessel.
Of particular interest is the enormous quantity of mint-condition Changsha pottery, a form of Southern Tang ceramic readily identified by its distinctive brown and straw-coloured glaze.
The Changsha specimens found in the Belitung wreck
are decorated with an enormous range of motifs. There is something for everyone: lotuses, makara fish and Chinese calligraphy for the Buddhists, invocations of Allah and non-pictorial, geometric patterns for the Muslims, and everything in between.
These are not terribly valuable in and of themselves; they are, as Simon Worrall's droll appraisal in his article in National Geographic goes,
"the Tang equivalent of Fiestaware".
762 CE:
The Abbasid caliph Al-Mansur founded a new capital at Baghdad: a carefully chosen site to which, an advisor noted, supplies would come up the Tigris river in ships from China and India.
Abu Ja'far Muhammad Al-Tabari (839-923), 'The History of Al-Tabari', cited in Amira Bennison, 'The Great Caliphs', p.69
766-804 CE:
China had very large river and canal boats, estimated at 700 tons. 'The crews of these ships lived on board; they were born, married and died there. The ships had… lanes (between the dwellings), and even gardens. Each one had several hundred sailors… South to Chiangsi and north to Huainan they made one journey in each direction every year, with great profit….. The sea-going junks (hai-po) are foreign ships. Every year they come to Canton and An-i. Those from Ceylon are the largest…When these ships go to sea, they take with them white pigeons, so that in case of shipwreck the birds can return with messages.'
Michael L.Bosworth, http://www.cronab.demon.co.uk/china.htm, citing Joseph Needham Vol. 4 Part III, p.452-3 (Cambridge Univ Press, 1971), which in turn quotes Tang Yu Lin's Tang Yu Lin (Miscellanea of the Tang Dynasty), compiled in the Song dynasty.
785-805 CE: Chinese merchant ships sailing from Guangzhou were calling regularly at Sufala on the east African coast, to cut out Arab middlemen.
Shen Fuwei, Cultural flow between China and the outside world, p.155,
786-809 CE: A diplomatic present of exquisite Chinese porcelain to Caliph Harun al Rashid of Baghdad caused a sensation at that court.
Shen Fuwei, Cultural flow between China and the outside world, p.163.
774 CE:
 Javanese attacked Champa, destroying the Po Nagar temple at Nha Trang.
Emmanuel Guillon, Cham Art, p.195
921
Prasasti Sukabumi itu, tertera angka tahun 921 M.
Di situ diceritakan soal pembangunan bendungan dan sungai yang dimulai pertama kali pada 804 M.
Prasasti Sukabumi adalah sebuah prasasti pada batu
yang ditemukan di perkebunan Sukabumi, kecamatan Pare, Kediri, Jawa Timur.
Prasasti ini menurut sebutan ahli epigrafi lebih dikenal dengan nama Prasasti Harinjing.
Tulisan yang terdapat pada kedua belah sisi prasasti ini ditulis dengan aksara dan bahasa Jawa Kuna.
Prasasti ini terdiri dari tiga buah piagam yang mengenai hal yang sama.
Bagian depan disebut Prasasti Harinjing A.
Isinya menyebutkan pada 11 Suklapaksa bulan Caitra tahun 726 Saka atau 25 Maret 804 Masehi, para pendeta di daerah Culangi memperoleh hak sima (tanah yang dilindungi) atas daerah mereka karena telah berjasa membuat sebuah saluran sungai bernama Harinjing.
Bagian belakang, Prasasti Harinjing B,
baris 1-23 menyebutkan bahwa Sri Maharaja Rake Layang Dyah Tulodhong pada 15 Suklapaksa bulan Asuji tahun 843 Saka atau 19 September 921 Masehi, mengakui hak-hak para pendeta di Culangi karena mereka masih tetap harus memelihara saluran Harinjing.
Mulai baris selanjutnya, disebut Prasasti Harinjing C,
 menyebutkan bahwa hak serupa diakui pula pada 1 Suklapaksa bulan Caitra tahun 849 Saka atau 7 Maret 927 Masehi.
.
khuluk_BABAT_JAWA.
1563
Terjadi bencana besar di Euro yang terkenal dengan
The Black Death
dan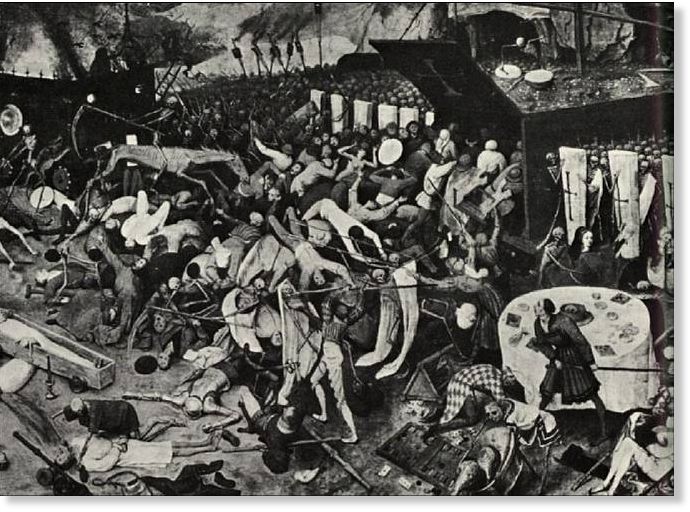 dampak negatif dan positif yang timbul 
Ternyata Bencana besar akhirnya terjadi juga
di Indonesia
yaitu tahun
1586
 sehingga runtuhnya kerajaan majapahit
"Yoh, Kediri mbesuk bakal pethuk piwalesku sing makaping-kaping, yaiku Kediri bakal dadi kali, Blitar dadi latar, lan Tulungagung dadi kedung" ~Lembu Sura~
– Kalimat di atas adalah "sepatan" alias kutukan yang diucapkan Lembu Sura, tokoh legenda yang mewarnai sejarah Kabupaten Kediri di Jawa Timur. Juga, sejarah kerajaan Majapahit.
Ada beragam versi soal Lembu Sura yang berakhir dengan kutukan dan menjadi sejarah lisan kehadiran Gunung Kelud ini.
Meski demikian, semua bertutur tentang cara seorang perempuan cantik menolak lamaran Lembu Sura.
Satu versi, adalah cerita dengan
perempuan cantik Dewi Kilisuci yang adalah anak Jenggolo Manik.
Versi lain, ini adalah kisah tentang
Dyah Ayu Pusparani, putri dari Raja Brawijaya, penguasa tahta Majapahit. Ada versi-versi lain tetapi inti cerita sama.
Kisah ini bermula dari kecantikan yang tersohor, mendatangkan para pelamar, sayangnya yang datang tak sesuai harapan. Tak enak menolak, maka cara sulit diterapkan. Tak beda dengan kisah Rorojonggrang dan legenda candi Prambanan.
Namun, dalam legenda Gunung Kelud, pelamar sang putri ini masih pula bukan manusia.
 Dia makhluk berkepala lembu.
Itulah Lembu Sura.
Untuk menolak lamaran Lembu Sura, dibuatlah syarat pembuatan sumur sangat dalam hanya dalam waktu semalam.
Tak dinyana, Lembu Sura ini punya kekuatan dan kemampuan untuk mewujudkan syarat itu.
Melihat perkembangan tak menggembirakan, sang putri pun menangis.
Ayahnya, dalam versi kisah yang mana pun, kemudian memerintahkan para prajurit untuk menimbun Lembu Sura yang masih terus menggali di sumur persyaratan itu.
Batu demi batu dimasukkan ke lubang sumur, menjadi sebentuk bukit menyembul karena ada Lembu Sura di dalamnya.
Saat batu dilemparkan, Lembu Sura masih memohon untuk tak ditimbun. 
Begitu menyadari bahwa permohonannya akan sia-sia, keluarlah "sepatan" sebagaimana menjadi kutipan di atas.
"Yoh, Kediri mbesuk bakal pethuk piwalesku sing makaping-kaping, yaiku Kediri bakal dadi kali, Blitar dadi latar, lan Tulungagung dadi kedung"
~Lembu Sura~
 Sejak saat itulah legenda Gunung Kelud dan kedahsyatan letusan maupun dampaknya mengemuka.
1586
Hancurnya Majapahit
Terlepas dari mitos Lembu Sura, tiga wilayah yang disebut dalam kutukannya itu memang kemudian luluh lantak. Para ahli sejarah memperkirakan letusan pada1586 yang menewaskan lebih dari 10.000 orang adalah akhir dari sejarah kekuasaan Kerajaan Majapahit.
Betul, catatan sejarah menyebutkan Kerajaan Majapahit diperkirakan runtuh pada kisaran angka tahun 1478.
 Namun, para sejarawan hari ini pun mengakui masih banyak yang belum terkuak soal sejarah kerajaan itu, seperti misalnya dugaan ada dua Majapahit pada satu masa.
Apa kaitannya dengan Gunung Kelud?
Tentu saja letusannya.
Peta rawan bencana letusan Gunung Kelud, yang dirilis Badan Geologi Kementerian Energi, Sumber Daya Alam, dan Mineral menyusul peningkatan status kegunungapian Gunung Kelud menjadi Awas, Kamis (13/2/2014) malam.
 Gunung ini kembali meletus pada Kamis dengan letusan pertama terjadi pada pukul 22.50 WIB.
Sebelum letusan pada 2007,
setidaknya sejak awal abad 1900-an
 diketahui bahwa kawah Gunung Kelud memiliki danau.
Kecuali letusan pada 2007, letusannya pun diketahui bertipe eksplosif, termasuk letusan pada Kamis (13/2/2014) malam.
Dalam sebuah wawancara mantan Kepala Pusat Vulkanologi dan Mitigasi Bencana Geologi (PVMBG) Badan Geologi Kementerian Energi, Sumber Daya Alam, dan Mineral (ESDM) Surono mengatakan keberadaan danau di kawah ini sama bahayanya dengan lontaran material padat dari letusan gunung.
Surono yang pada Jumat (14/2/2014) diangkat menjadi Kepala Badan Geologi, mengatakan lontaran air dari danau kawah, bila masih ada, bisa mencapai sekitar 37,5 kilometer. Sudah air panas, bercampur magma, masih dipadukan dengan seratusan juta ton material padat yang terlontar.
Kira-kira, karena tak ada catatan sejarahnya, itulah yang terjadi pada letusan 1586. Namun, bukan pula letusan itu saja yang menyebabkan korban jiwa mencapai lebih dari 10.000 jiwa. Dampak sesudah letusan, tak kurang buruknya.
Diduga, kematian puluhan ribu orang itu juga disebabkan kelaparan. Dengan muntahnya air danau kawah, lontaran material padat, dan abu vulkanik yang mematikan tanaman, dapat diduga tak ada pasokan makanan yang bisa disediakan dalam jumlah besar untuk jumlah warga pada saat itu.
Membaca simbol tradisi lisan untuk mitigasi bencana
Inilah yang kemudian diduga sebagai penyebab benar-benar paripurnanya sejarah kerajaan Majapahit, menutup beragam konflik politik internal zaman itu, maupun legenda kutukan Lembu Sura. 
Sebagai gambaran,
letusan pada 1919
 yang notabene relatif lebih modern dibandingkan kondisi pada 1586, juga menewaskan ribuan orang.
Angka yang tercatat adalah 5.160 orang. Letusan pada 1919 inilah yang mengawali dilanjutkannya upaya pembangunan terowongan di kaki gunung berketinggian 1.731 meter tersebut.
Terowongan-terowongan tersebut berfungsi mengurangi volume air di kawah danau.
Catatan tertua tentang upaya mengurangi dampak dari lahar cair, gabungan magma dan air danau yang mendidih, adalah "kelahiran" Sungai Harinjing yang sekarang dikenal sebagai Sungai Sarinjing di Desa Siman, Kecamatan Kepung, Kediri. Sungai ini merupakan sudetan dari Sungai Konto.
Kehadiran Sungai Serinjing tercatat dalam prasasti Harinjing di Desa Siman.
Dalam prasasti yang dikenal pula sebagai Prasasti Sukabumi itu, tertera angka tahun 921 M.
Di situ diceritakan soal pembangunan bendungan dan sungai yang dimulai pertama kali pada 804 M. 
Terowongan pengalir air dari danau kawah buatan 1926,
Pada 19 Mei 1919,
Gunung Kelud meletus, menewaskan sedikitnya 5.000 orang, sebagian besar dari mereka tewas karena diterjang lahar panas.
setelah letusan pada 1919,
masih berfungsi sampai sekarang.
Setelah cukup tenang selama beberapa puluh tahun, Kelud kembali aktif pada 1951, 1966,
 Namun, setelah letusan 1966,
 Pemerintah Indonesia membangun terowongan baru yang lokasinya 45 meter di bawah terowongan lama. 
Terowongan baru yang rampung dibangun pada 1967 ini diberi nama Terowongan Ampera.
 Fungsinya menjaga volume air danau kawah tak lebih dari 2,5 juta meter kubik. Volume air di kawah Gunung Kelud susut dan hanya menyisakan genangan pada letusan efusif 2007.
Letusan gunung kelud  1990,
yang secara total menewaskan 250 orang.
Pada letusan Kamis (13/2/2014) malam,
air danau bisa jadi bukan lagi ancaman.
Namun, terbukti pada malam itu bawa Gunung Kelud masih memiliki ciri letusan eksplosif.
 Lontaran material padat vulkanik pada letusan terbesar pada pukul 23.30 WIB mencapai ketinggian 17 kilometer, ketika letusan pertama melontarkan material hingga setinggi 3 kilometer.
Jangkauan abu vulkanik letusan Gunung Kelud pada malam itu pun menyebar luas mengikuti arah angin, menyebar luas di Jawa Tengah dan menjangkau Jawa Barat.
 Bisa jadi gabungan antara pembangunan saluran-saluran air yang telah menghadirkan 11 sungai berhulu di gunung itu, letusan efusif yang menyurutkan air danau kawah, dan persiapan yang lebih baik menjadi faktor yang meminimalkan jumlah korban.
Namun, barangkali pekerjaan rumah tetap belum habis.
Berdasarkan catatan sejarah, Gunung Kelud memiliki pola letusan berjeda pendek, antara 9 sampai 25 tahun.
Walaupun korban jiwa yang jatuh dalam dua hari ini bukan karena dampak langsung letusan, tetapi fakta sangat pendeknya tenggat waktu antara peningkatan status Awas sampai terjadi letusan pada Kamis malam, tetap merupakan sebuah catatan baru.
Jarak waktu peningkatan status hingga terjadinya letusan, tak sampai dua jam. Kalaupun kutukan Lembu Sura tak lagi relevan sebagai mitos, barangkali perlu dibaca ada simbol-simbol budaya dalam tradisi lisan sebagai "kode" mitigasi bencana. 
Percaya atau tidak, hari ini selain 11 sungai ada di Kediri, di Tulungagung pun ada Bendungan Wonorejo, dan Blitar menjadi sebidang tanah datar di kawasan yang dikelilingi danau dan sungai itu.
Agak terdengar familiar?
Betul, kalimat dalam legenda Lembu Sura.
The Great Plague of London 1665 – 1666 
© Unknown
It's been estimated that the Great Plague of London killed roughly 100,000 people within the span of about a year. There had been numerous smaller plagues raging throughout Europe in the preceding decades, but none compared with the Great Plague that centered on London during 1665-1666. As historians tell it, the Great Plague started in July of 1665 and persisted until September of 1666, right up until the Great Fire of London destroyed most of the city's center. After this time, the city was deemed tolerable and the nobility, who had scurried off to the countryside at the first hints of an outbreak, returned to London. 
If you've ever heard the classic children's song and game 'Ring a ring of rosies', then you've basically heard a description of what this particular plague was like since the song originated during this time. The original lyrics to this song wer
Ring a ring of rosies 
A pocketful of posies 
Atishoo, atishoo 
We all fall down!
One of the initial symptoms of the plague included a rose-colored rash in the shape of a ring. Pocket full of posies signified herbs that people would stuff in their pockets since many believed that the plague was carried by bad smells. "Atishoo" was the sound of the violent sneezing, another common symptom. "We all fall down!" Well, I think you can guess what that signifies. 
In any event, with mortality rates reaching record numbers during the Great Plague, the citizens of London were forced to take desperate measures. To add insult to injury, many of the city's physicians, priests and others who were trained to handle the sick and dying simply up and left, not returning until after the worst was over. The poorest classes were left behind to suffer and deal with the sickness and dead bodies in whatever ways they could. With most of the trained physicians gone, people were forced to take their health into their own hands and find viable remedies to ward off the plague. You can imagine there must have been a strong 'selection pressure' with all those people dying, weeding out the useless remedies that offered no protection. So for the folks that did manage to weather the plague, did they have some common remedy that gave them protection? 
The gravediggers probably had the worst time of all trying to stay healthy during this time. Having to handle the bodies of the dead, they were easily infected and many did not live long. In the book A Journal of the Plague Year, written by Daniel Defoe, he recounts the story of a gravedigger named John Hayward who managed to survive the Great Plague by his own special method. As it states:
He never used any preservative against the infection, other than holding garlic and rue in his mouth, and smoking tobacco
. This I also had from his own mouth. And his wife's remedy was washing her head in vinegar and sprinkling her head-clothes so with vinegar as to keep them always moist, and if the smell of any of those she waited on was more than ordinary offensive, she snuffed vinegar up her nose and sprinkled vinegar upon her head-clothes, and held a handkerchief wetted with vinegar to her mouth.
Okay, now this is interesting. Apparently, tobacco was part of his secret. But could this just be a fluke? After all, he also employed garlic and rue, and his wife used vinegar to protect herself as well.
The protection could have come from any of those substances. But as history shows, he wasn't the only one who believed that tobacco offered some protection from the plague. According to one 
website
 which summarizes the history of the Great Plague:
Those who stayed in London did all they could to protect themselves from the plague. As no one knew what caused the plague, most of these were based around superstition. In 1665 the College of Physicians issued a directive that brimstone 'burnt plentiful' was recommended for a cure for the bad air that caused the plague. Those employed in the collection of bodies frequently smoked tobacco to avoid catching the plague. 

"For personal disinfections nothing enjoyed such favour as tobacco; the belief in it was widespread, and even children were made to light up a reaf in pipes. Thomas Hearnes remembers one Tom Rogers telling him that when he was a scholar at Eton in the year that the great plague raged, all the boys smoked in school by order, and that he was never whipped so much in his life as he was one morning for not smoking. It was long afterwards a tradition that none who kept a tobacconist shop in London had the plague." – A J Bell writing in about 1700.
Did I just read that right? Children forced to smoke tobacco; actually whipped for not smoking? Can you imagine a whole classroom of elementary school children lighting up a reef in class? Well, I can't. Not with all the anti-tobacco programming and disinformation we hear incessantly today. But there you have it! There seemed to be a widespread belief that tobacco protected people from whatever this plague was that was going around; enough of a belief anyways for people to force their children to smoke! It seems reasonable, given the environmental pressures at the time, that the belief in tobacco as a protective remedy against the plague was more than just a trite superstition. 
I hope that wasn't too much of a shock to read, I know it was for me when I first came across it! I think this is probably enough to drive most people's emotional reasoning into overdrive. After all, the anti-smoking mafia has beaten it into our heads that smoking tobacco is so bad that allowing a child to smoke is equivalent to murder. But perhaps children should be exposed to tobacco smoke at an early age, or at least allowed the chance to get some second-hand smoke? It might have other beneficial effects as well. Keep in mind, I'm talking about the smoke of pure natural tobacco, not commercial cigarettes which are loaded with a lot of other chemical junk. 
I realize this is a 'hot-button' topic as far as children and smoking goes, but perhaps it's high time we have this discussion in our culture. I mean, there's more than enough evidence to suggest that the worldwide campaign to stamp out tobacco is a bit suspicious to say the least. Consider for, example, the fact that the global rate of cancer (with lung cancer second on the list) has increased by 20% over the past 10 years, yet during the same period the number of smokers dropped (as a result of government propaganda) by large percentages in many countries around the world. Consider also the fact that the rate of lung cancer among non-smokers is on the rise. In places like Dehli in India, for example, one third of people with lung cancer are non-smokers. All of this data strongly suggests that the 'books have been cooked' on cancer and smoking and some seriously biased science is being promoted by governments. Why? 
Given the above historical data on tobacco during the times of the Great Plague, we might speculate that tobacco's potentially life-saving properties during a plague are one of the main reasons why the PTB want to see tobacco banished in addition to everything else. So without tobacco, people are not only stressed out and unable to think straight, they might also be more prone to pandemic diseases as well. What a set-up! 
Since we now suspect tobacco might actually have been an effective remedy against the plague, could there be any modern-day scientific evidence to support this conjecture? Part of the problem is that there is much debate over what exactly caused the plague. According to modern historians, the Great Plague of London was caused by the same bug responsible for the Black Death in Europe that started around 1347 AD. The claim in both cases is that bubonic plague, or the bacterium Yersinia pestis, passed onto people by fleas from rats, was responsible for the outbreak of disease in both instances (and many others too). However, as Gabriela Segura, M.D. states in her article "New Light on the Black Death: The Viral and Cosmic Connection", there is much evidence that rules out this theory:
[Susan Scott and Christopher Duncan in their book Return of the Black Death] explain how Yersinia pestis has never persisted in any European rodents because they are not resistant. In addition to that, the only species of rats in Europe came either some 60 years after the last European plague or could not survive without a warm climate, making it impossible to spread infection rapidly and wildly in winter. They argue that:

… it is known that the Black Death was carried across the sea to Iceland and that there were two severe and well-authenticated epidemics in the fifteenth century. […] Yet it is known that no rats were present on the island during the three centuries of the Black Death. Infections continued through the winter when the average temperature was below -3 degrees Celsius, where transmission by fleas is impossible. It is also agreed that there is no mention in any of the accounts of rat mortality during the Black Death. A temperature of between 18 degrees and 27 degrees Celsius and relative humidity of 70% are ideal for flea egg-laying, whereas temperatures below 18 degrees inhibit it. Researchers had collected all the available climatological data for central England during the Black Death and at no time was the average July-August temperature above 18.5 degrees Celsius.

Scott and Duncan note certain factors that narrow the causative agent of the Black Death down to a virus. The infectious agent also appeared to have been remarkably stable; if there were mutations, these didn't change the course of the disease, at least not for 300 years. The plague was believed to have been passed by droplet infection; it was considered to be safe if one kept at least 4 meters (13 feet) away from an infected person out-of-doors. Most interesting of all, there exists a strong genetic selection among European populations in favor of the CCR5-Δ32 mutation. This mutation results in the genetic deletion of a portion of the CCR5 gene which codes for a protein that is an entry port used by some viruses. This mutation makes a homozygous carrier resistant to HIV-1 virus infections, and may have made them resistant to the Black Death. 

No known virus existing today is responsible for the Black Death, although the symptoms resemble those of Ebola, Marburg and the viral hemorrhagic fevers – diseases caused by filoviruses. They have a high mortality rate and tend to occur in explosive epidemics driven by person-to-person transmission. Outbreaks occur unpredictably and, as of yet, no animal reservoir is known.
So apparently the maligned rats and fleas are off the hook, but there still seems to be some question over what particular bug caused the Black Death. A virus certainly fits the bill, but perhaps once infection sets in, certain forms of bacteria would take hold as well? Kind of like how the common flu can sometimes lead to pneumonia in a weakened patient. So is there any evidence that tobacco or any of its components have an antimicrobial or antiviral effect? Although scientific data on this subject is hard to come by given the skewed tunnel vision with which corrupted science views tobacco, there is nonetheless some research which points to tobacco being anti-microbial. 
Antiviral Activity of Tobacco Smoke Condensate on Encephalomyocarditis Infection in Mice 
This study shows that cigarette smoke had an inhibitory effect on the growth of "EMC virus, vesicular stomatitis virus, reovirus type 2, vaccinia virus, and poliovirus type 2, but not against adenovirus type 12, in KB cell cultures." 
The effect of chronic exposure to tobacco smoke on the antibacterial defenses of the lung. 
From the abstract:
… These studies indicate that chronic exposure to tobacco smoke does not impair, and in fact may stimulate, the host defenses of the lung…
And probably most intriguing of all: 
Antimicrobial activity of nicotine against a spectrum of bacterial and fungal pathogens
… Nicotine caused a dose-dependent growth inhibition of a broad spectrum of the test organisms, some of which are known pathogens. Gram-positive and gram-negative bacteria were affected equally, along with the acid-fastMycobacterium phlei and the opportunistic fungi Candida albicans and Cryptococcus neoformans, thereby suggesting a common mechanism of action. Levels of inhibition >50% occurred when most of the affected organism were cultured with nicotine at 100-250 µg/ml. It is noteworthy that such concentrations of nicotine can be found in vivo [3], especially in the oral cavity of smokeless tobacco users, making these findings physiologically relevant. It should also be noted that theviridans steptococci used in these experiments – which were also highly susceptible to the effects of nicotine – are an almost universal inhabitant of the oropharynx. In contrast, Staphylococcus aureus and the spirochaete B. burgdorferi (the agent of Lyme disease), were only slightly inhibited or were completely unaffected following the exposure to nicotine.
So it appears that tobacco does have a broad anti-microbial effect that has so far has been only marginally explored. Could we be seeing hints from these studies as to why London residents took to tobacco as their remedy of choice against the plague – even to the point of forcing their children to smoke? Certainly, more research in this area would be good. 
Now, keep in mind that we're not claiming that people can go smoke tobacco and then become impervious to pandemics, plagues, etc. At best, tobacco looks like a helpful tool to have in one's arsenal. With the current toxic state of our world, proper diet and detoxing are going to be essential to maintaining health during these trying times as well. This is already the case even without any real plague to contend with. The human immune system is quite capable of fighting off new diseases as long as it's not working against itself by attacking healthy tissue (autoimmune disease), or stressed from having to fight off too many invaders. Keep in mind also that the immune system treats many of the anti-nutrient chemicals in plant foods just as it does a virus. So the body needs an optimal form of fuel/food to function in an adequate way; anything less just leads to problems. Indeed, more and more medical studies are pointing the finger at the 'modern lifestyle' with its high-carb low-fat diet (among the massive amount of pollution floating around in our atmosphere) as the main culprit in the rise in cancer rates. 
In the research we've gathered here at SOTT, we've discovered that saturated fat, particularly coming from animals, is one of the most essential forms of nourishment. A diet with a high percentage of saturated fat turns out to be a very healthy and protective diet. The membranes around our cell are made of fat and cholesterol and our brain is made of the same stuff. What should this tell us? A healthy cell membrane protects cells from viral invaders, just like a healthy brain makes it difficult to believe lies (i.e. thought viruses). And no, we're not suggesting that people go and load up on junk food, which provides the wrong kind of fat anyway; most of the fat used in processed foods is soy, corn or canola oil and is damaging to our bodies. For more on the story of fat, see the article Everything About Fat by Sott.net's Doug DiPasquale. 
So are you feeling that emotional reasoning kick in yet? Don't worry, you're not alone. Many of us have had to get past the widely-held belief that animal fat is supposed to be bad for us. So please take this slow, read the links carefully and let the ideas percolate a bit before coming to any judgment on the matter. And don't take our word for it, do the research yourself and come to your own conclusions! 
TEN TERRIBLE FEMINES IN THE WORLD
10. Great Famine Ireland
            1.5 million dead, 2 million emigrated
One of the most famous famines in history, the Great Famine was caused by a devastating potato disease. 33% of the Irish population relied on the potato for sustenance, and the onset of the disease in 1845 triggered mass starvations that lasted until 1853. The large Catholic population was suppressed by British rule, and left unable to own or lease land, or hold a profession. When the blight struck, British ships prevented other nations from delivering food aid. Ireland experienced a mass exodus, with upwards of 2 million people fleeing the country, many to the United States. At its conclusion in 1853, 1.5 million Irish were dead, and an additional 2 million had emigrated. In total, the population of Ireland shrunk by a resounding 25%.
,,,,,,,,,,,,,,,,,,,,,,,,,,,,,,,,,,,,,,,,,,,,,,,,,,,,,,,,,,,,,,,,,,,,,,,,,,,,,,,,,,,,,,,,,,,,,,,,,,,,,,,,,,,,,,,,,,,,,,,,,,,,,,,,,,,,,,,,,,,,,,,,,
9. Vietnamese Famine of 1945
As a protectorate under France, Vietnam was under colonial rule for much of World War II. As Japanese expansion began in Indochina, Vietnam was taken for the Japanese, and a collaborationist French government sided with the Japanese. Agricultural focus shifted from sustenance to war-materials, specifically rubber. The Japanese exploited what little crop farms remained, and the invading forces commandeered most of these crops. This, teamed with an unbearable drought followed by biblical flooding, caused mass starvation across much of Northern Vietnam. The resulting famine killed 2 million Vietnamese.
,,,,,,,,,,,,,,,,,,,,,,,,,,,,,,,,,,,,,,,,,,,,,,,,,,,,,,,,,,,,,,,,,,,,,,,,,,,,,,,,,,,,,,,,,,,,,,,,,,,,,,,,,,,,,,,,,,,,,,,,,,,,,,,,,,,,,,,,
8. North Korean Famine
               3 million dead
As the most recent famine on this list, North Korea suffered a tremendous famine from 1994 to 1998, brought about by a combination of misguided leadership and large scale flooding. Torrential rains in 1995 flooded the farming regions, and destroyed 1.5 million tons of grain reserves. Politically, Kim Jung Il implemented a "Military First" policy, which placed the needs of the military above the needs of the common people, food rations included. The isolated nation suffered from a stagnating economy, and was unable and unwilling to import food. As such, the childhood mortality rate rose to 93 out of 1000 children, and the mortality rate of pregnant women rose to 41 out of 1000 mothers. Over a 4-year span, an estimated 2.5-3 million people perished due to malnutrition and starvation.
,,,,,,,,,,,,,,,,,,,,,,,,,,,,,,,,,,,,,,,,,,,,,,,,,,,,,,,,,,,,,,,,,,,,,,,,,,,,,,,,,,,,,,,,,,,,,,,,,,,,,,,,,,,,,,,,,,,,,,,,,,,,,,,,,,,,,,,,,,,,,,,,,
7. Russian Famine of 1921
               5 million dead
The early 20th century was a tumultuous time for Russians, as they lost millions in World War I, experienced a violent revolution in 1917, and suffered from multiple Civil Wars. Throughout the wars, the Bolshevik soldiers often forced peasants to sacrifice their food, with little in return. As such, many peasants stopped growing crops, as they could not eat what they sowed. This resulted in a massive shortage of food and seed. Many peasants had taken to eating seeds, as they knew they could not eat any crops they grew. By 1921, 5 million Russians had perished.
,,,,,,,,,,,,,,,,,,,,,,,,,,,,,,,,,,,,,,,,,,,,,,,,,,,,,,,,,,,,,,,,,,,,,,,,,,,,,,,,,,,,,,,,,,,,,,,,,,,,,,,,,,,,,,,,,,,,,,,,,,,,,,,,,,,,,,,,,,,,,,,,,,,,
6. Bengal Famine of 1943
               7 million dead
The Bengal Famine of 1943 was set about by a whirlwind of catastrophic events. With World War II raging and Japanese imperialism growing, Bengal lost their largest trading partner in Burma. A majority of the food the Bengalis consumed was imported from Burma, but the Japanese suspended the trade. In 1942, Bengal was hit by a cyclone and three separate tidal waves. The ensuing floods destroyed 3200 square miles of viable farmland. An unpredictable fungus, destroying 90% of all rice crops in the region, then struck crops. Meanwhile, refugees fleeing the Japanese from Burma entered the region by the millions, increasing the need for food supplies. By December of 1943, 7 million Bengalis and Burmese refugees were dead due to starvation.
–>  
5. Bengal Famine of 1770
               10 million dead
Yet another famine in Bengal, this horrific event killed a third of the population. Largely ruled by the English-owned East India Company, reports of severe drought and crop shortages were ignored, and the company continued to increase taxes on the region. Farmers were unable to grow crops, and any food that could be purchased was too expensive for the starving Bengalis. The company also forced farmers to grow indigo and opium, as they were much more profitable than inexpensive rice. Without large rice stocks, people were left with no food reserves, and the ensuing famine killed 10 million Bengalis.
,,,,,,,,,,,,,,,,,,,,,,,,,,,,,,,,,,,,,,,,,,,,,,,,,,,,,,,,,,,,,,,,,,,,,,,,,,,,,,,,,,,,,,,,,,,,,,,,,,,,,,,,,,,,,,,,,,,,,,,,,,,,,,,,,,,,,,,,,,,
4. Soviet Famine of 1932-1933
             10 million dead
Incredibly, the severity of this famine was not fully known in the West until the collapse of the USSR in the 1990s. The main cause was the policy of collectivization administered by Josef Stalin. Under collectivization, large swaths of land would be converted into collective farms, all maintained by peasants. Stalin went about implementing this by destroying the peasants existing farms, crops, and live-stock, and forcibly taking their land. Reports of peasants hiding crops for individual consumption led to wide-scale search parties, and any hidden crops found were destroyed. In actuality, many of these crops were simply seeds that would be planted shortly. The destruction of these seeds and the forced collectivization of land caused mass starvation, killing an estimated 10 million people.
,,,,,,,,,,,,,,,,,,,,,,,,,,,,,,,,,,,,,,,,,,,,,,,,,,,,,,,,,,,,,,,,,,,,,,,,,,,,,,,,,,,,,,,,,,,,,,,,,,,,,,,,,,,,,,,,,,,,,,,,,,,,,,,,,,,,,,
3. Chalisa famine
              11 million dead
The Chalisa famine refers to the year in the Vikram Samvat calendar used in Northern India. Occurring in 1783, the region suffered from an unusually dry year, as a shift in the El Nino weather system brought significantly less rain to the region. Vast swaths of crops withered and died, and livestock perished due to lack of food and drinking water. The tumultuous year killed 11 million Indians.
,,,,,,,,,,,,,,,,,,,,,,,,,,,,,,,,,,,,,,,,,,,,,,,,,,,,,,,,,,,,,,,,,,,,,,,,,,,,,,,,,,,,,,,,,,,,,,,,,,,,,,,,,,,,,,,,,,,,,,,,,,,,,,,,,,,,,,
2. Chinese Famine of 1907
              25 million dead
Ranking second in terms of death toll, the Chinese Famine of 1907 was a short-lived event that took the lives of nearly 25 million people. East-Central China was reeling from a series of poor harvests when a massive storm flooded 40,000 square miles of lush agricultural territory, destroying 100% of the crops in the region. Food riots took place daily, and were often quelled through the use of deadly force. It is estimated that, on a good day, only 5,000 were dying due to starvation. Unfortunately for the Chinese, this would not be their last great famine.
,,,,,,,,,,,,,,,,,,,,,,,,,,,,,,,,,,,,,,,,,,,,,,,,,,,,,,,,,,,,,,,,,,,,,,,,,,,,,,,,,,,,,,,,,,,,,,,,,,,,,,,,,,,,,,,,,,,,,,,,,,,,,
1. Great Chinese Famine
              43 million dead
Much like the Soviet Famine of 1932-1933, the Great Chinese Famine was caused by Communist leaders attempting to force change upon an unwilling population. As part of their "Great Leap Forward", the owning of private land was outlawed in China in 1958. Communal farming was implemented in an attempt to increase crop production. More relevant, however, was the importance the Communist Regime placed on iron and steel production. Millions of agricultural workers were forcibly removed from their fields and sent to factories to create metal.
In addition to these fatal errors, Chinese officials mandated new methods of planting. Seeds were to be planted 3-5 feet under the soil, extremely close together, to maximize growth and efficiency. In practice, what little seeds that sprouted were severely stunted in growth due to overcrowding. These failed policies, teamed with a flood in 1959 and a drought in 1960, affected the entirety of the Chinese nation. By the time the Great Leap Forward had ended in 1962, 43 million Chinese had died from the famine.
Sumber:
beragam sumber
The complete info exist
Contact via email
thanks